" We are uniquely able to help clients solve their business challenges in most optimal way. "
Optus Solution is established to provide the best Data Analytics and Decisioning (DAD) solutions for organizations and companies in running
their businesses. We partner with world's leading organizations to provide scalability, reliability and worldwide expertise while ensuring successful delivery with local know-how. We cater to a wide-ranging scope of industries, spanning the Asia Pacific region.
Industries we have served over the years :
Infrastructure & Contractor
Healthcare & Life sciences
At Optus Solution, we don't just leverage on technology – we create value with it. 
As IBM Premiere Business Partner, Optus Solution has earned exceptional recognitions on our Data Analytic & Decisioning (DAD) solutions: IBM Cognos Analytics Gold Practice, IBM Planning Analytics Gold Practice.
The IBM Software Practice Accreditation is designed to recognize Optus investment in deepening and broadening our IBM Software implementation skills. Respective IBM Cognos Analytics and IBM Planning Analytics teams collectively have to achieve a set number of technical certifications, each of which required hours of individual preparation and study time, passing several proctored exams, and completing many hours of on-the-job experience using respective tools on a wide variety of demanding client projects.
Optus was also required to submit to IBM a series of customer deployment examples to demonstrate our team's capabilities through validated implementations.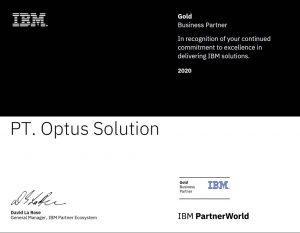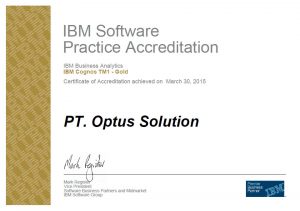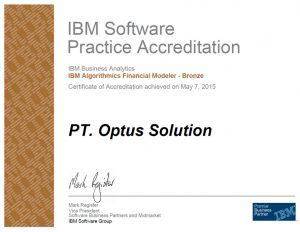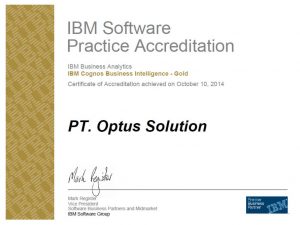 Deliver right solution and superior service for the customer to realize maximum business value
Focus on profitable growth without sacrificing integrity & quality
Respond quickly and meaningfully to new opportunities (or threats)
Develop team's continuous personal and professional growth
Put forth new ideas in order to improve our work
Cultivate a creative working environment to solve tough problems
exercise accountability and ownership of our work and responsibilities
Make decisions based on facts and numbers